At the Congress in Madrid, Spain, ISHPES honored Heather Dichter as the 2019 ISHPES Award winner. The American scholar Heather Dichter, PhD, is Associate Professor at the De Montfort University, Leicester, UK, where she teaches in the Leicester Castle Business School and is a member of the International Centre for Sports History and Culture. Her teaching and research is devoted to both sport history and sport management. Her previous positions show that she can be considered being a global scholar. Before she took the position in the UK she taught at the Western Michigan University, Department of Human Performance and Health Education (Kalamazoo, MI), Ithaca College, Department of Sport Management and Media (Ithaca, NY), York College of Pennsylvania, Department of History (York, PA), and she was an Adjunct Professor at Franklin University Switzerland, Lugano.
Heather Dichter´s interest in global topics is also mirrored in her Ph.D. on "Sporting Democracy: The Western Allies' Reconstruction of Germany Through Sport, 1944-1952" at the University of Toronto, Department of History (2008). Due to the fact that she is fluent in many languages Heather´s work on Sport Diplomacy has an international focus and she can read the original documents.
Her scholarly work is also reflected in many book chapters and articles in peer reviewed journals.
Currently she serves as an editor of the International Journal of the History of Sport and book review editor of the Journal of Sport History.
For many years Heather Dichter has been a devoted member at ISHPES and brings in her many ideas how to shape this society and bring it forward. She is the webmaster and built up a detailed homepage over the years and since 2009 she has served on the ISHPES Council.
Besides her contribution to ISHPES the Award is given to Heather Dichter for her engaged and influential work in the field of Sport History, and her significant contributions to the international expansion of knowledge in the field.
Her keynote was entitled: A New Sport and Politics: The Close Relationship Between International Sport Leaders and Diplomats, and the description can be found on the 2019 Congress Program page.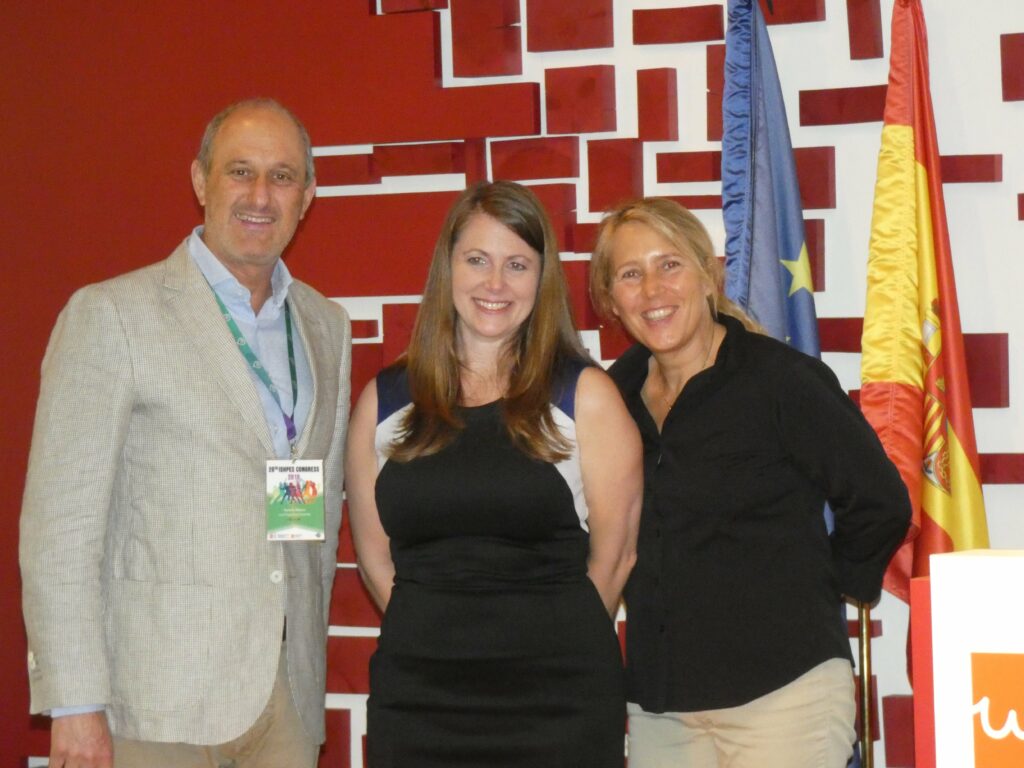 2019 Congress organizer Gerardo Bielons, ISHPES Award Winner Heather Dichter, ISHPES President Annette Hofmann