Dr. Wray Vamplew is the winner of the 2011 ISHPES Award. Wray Vamplew's career has been a succession of firsts on a truly international stage. In 1984 he became the first editor of Sporting Traditions, the journal of the Australian Society for Sports History (ASSH) in which he played a leading role from 1978.
In 1998 the book for which he is best known, Pay Up and Play the Game: Professional Sport in Britain, 1875-1914, won the inaugural book award of the North America Society for Sport History (NASSH). It was hailed as a pioneering work and has been reissued bu Cambridge University Press. In 1993 he was appointed the first Professor of Sports History in Britain in his role as the Inaugural Director of the International Centre for Sports History and Culture at De Montfort University, and in 2007 he became the first non-North American editor of the Journal of Sports History, the journal of NASSH.
He began his career in the Department of Economic History at the University of Edinburgh from where he received his PhD in 1969, and rose to become Vice-Chancellor of the Flinders University of South Australia, returning to the UK in 1993 to head up the new De Montfort Centre. His final full time career move in 2000 brought him back to Scotland as Director of Research in Sports Studies at the University of Stirling,
He is now the Managing Editor of the International Journal of the History of Sport and visiting professor at the University of Central Lancashire.
Throughout his illustrious career Wray Vamplew has published extensively on an eclectic range of issues – golf, sports violence, sport and alcohol, sports museums, sport and the weather and sport regulation to name just a few. His Festschrift, published on his retirement from Stirling in 2009, lists over 150 items of scholarly work.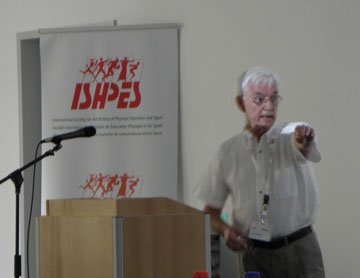 Wray Vamplew giving his keynote talk, "Original Sin, Cumulative Causation, and 'Fair Cheating All Round': An Historical Excursion into Rule-Making and Rule-Breaking in Sport"