The ISHPES Award is presented to a sport historian who has a particular interest in and has published pioneering work on the general theme of the ISHPES Congress.
The Award for 2017 has been presented to Malcolm MacLean, Reader in the Culture and History of Sport at the University of Gloucestershire in England. Malcolm has degrees in history and anthropology, and for the last 20 years has focussed primarily on sport and cultural relations in colonial and imperial settings, including rugby union in Aotearoa New Zealand and cricket in the British West Indies. Malcolm's current work projects centre of activist political campaigns in sporting and cultural boycott movements, including both the dynamics of activism and cultural representations of those movements, and in related activity he is exploring the return of South Africa to international sport in the post-apartheid era. He has published widely on these issues. His most recent book is Philosophical Perspectives on Play edited with Wendy Russell and Emily Ryall in 2016, and The Philosophy of Play as Life also with Wendy Russell and Emily Ryall is currently in press. Malcolm is a former Chair of the British Society of Sports History and is a member if the international councils of the New Zealand Studies Association and ISHPES.
The lecture given to mark the award is entitled: "Syncretic manliness: sporting masculinities from the edge of empire. A prolegomena on decolonising sport history." The abstract reads:
"The global history of sport is deeply intertwined with histories of empire, especially the second British Empire where sport was and is widely seen as a civilising tool, as a cultural weapon in the mission to make Brown and Better Britons, alongside in some places the development of Better Britains. Sports history, quite properly, puts at the centre of this process the public school and upper-middle ideology of 'athleticism', and with it a moralistic 'games ethic', where public schools trained young men's bodies to spread, grow and develop British imperial might: it has been suggested that the best qualification for aspirant members of the Sudanese 'public service' was an Oxford blue.
"This view of global sports history where young men took with them games and sports to the outposts of empire rests on a number of key presumptions, including a notion of the intentional or consequential diffusion of sport, a narrow specific definition of sport, views of indigenous peoples and those Othered by the implicit and explicit racial and cultural hierarchies of the post-Enlightenment era, and the long term benign effects of imperial and colonial occupation. As a consequence, and in the absence of well-developed anthropological sensibility, British imperial/global sports history downplays the agency of indigenous and colonial/imperial Others to construct a universal global sports history rooted in the principles and outlooks of European modernity that marginalises or denies in it the foundational roles of histories of colonialism, enslavement, dispossession and appropriation.
"Drawing on cases from rugby union in Aotearoa/New Zealand, this paper considers the ways that decolonising sports history might liberate global sports history from its Eurocentric paradigms. The paper will explore the case of captain of the first representative team selected by rugby union's national governing body in New Zealand and the case of a National Provincial Competition divisional final in 1999. It will ground those analyses in settlement histories that grant active roles to native and newcomer societies, that replace the universality of European modernity with the pluriversality of global relations and consider colonialism through lenses provided by Utopian Studies to suggest ways in which decolonising sports history might extend and enrich the field. "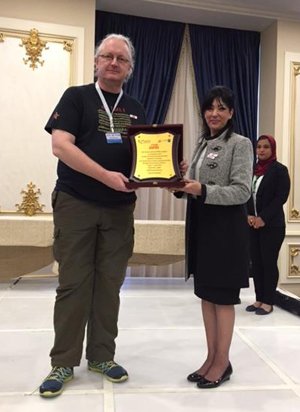 When ISHPES asked Malcom for some information to supplement his CV, he replied:
"Although I spent my childhood living on a small farm, I spent my teenage years living within 500m of one of the South Pacific's finest surf beaches where I swam, sailed and desperately wanted to be one of cool kids who surfed but never had the coordination to be able to stay standing up on a board. So I headed to the other side of the sand spit I lived on where there was a harbour about 40km long that was great for sailing.
"Like many New Zealanders I grew up in a house where sport was important, unlike most New Zealand men it was my mother's sport, not my father's. My mother was a senior figure in sports officiating, and an élite netball umpire – still New Zealand's most popular sports for women – and significant national figure in the governance of and leadership of the game. I saw my father set aside his sports and leisure interests for my mother's: as we know, this would still be unusual but in the 1960s and 1970s it was incredibly rare. I had an unusual sporting childhood.
"I got into sports history unexpectedly. I was an historian of working class social and economic life and of working class social movements when in the mid-1990s I started a PhD dealing with the anti-apartheid movement in Aotearoa New Zealand, which meant I had to make sense of rugby – so unlike many sports scholars I came to it not as an athlete or a fan but because it is important to the way people make sense of their lives.
"As a kid I thought I might want to be a school teacher: I lived in a predominantly working class town and teaching was what the bright kids did. Instead I became an activist in the student and trade unions, flirted with academia, became a bookseller, worked as a public servant in rural Queensland and as a policy advisor to the New Zealand Minister of Justice before a smallish university in provincial England offered me a job teaching sport studies. Not long afterwards my mother, the élite athlete, was heard to say to one of her sport friends that if any of her kids were going to work in sport full time, she always thought I was the least likely.
"In addition to my academic work I am chair of Labour Behind the Label, a UK activist and educational group dealing with workers' rights in the textile and footwear industries.
"I enjoy watching and loved paying netball (definitely my mother's son) and am being reminded via my grandchildren just how exhausting toddlers are – but really appreciate being able to give them back at the end of the day.
"I was delighted to deliver this talk in Alexandria with its long history of scholarship and open inquiry. It was Alexandria that trained many of the first women to practice as doctors in the UK, when British medical schools would not admit women as students. It was Alexandria that gave us that voice of moral honesty in 20th century British history, Eric Hobsbawm. It was Alexandria that gave us the philosopher and mathematician Hypatia, who after 1700 years remains a by-word for women's scholarship. For me it is a city of ancient scholarship and dissent and it was this spirit of stories of dissent and dissidence that I approached this talk."