2020 Congress
SAPPORO, JAPAN • August 20 – 24, 2020
SPORT HISTORY AND INTERDISCIPLINARY RELATIONS
IN THE YEAR OF THE TOKYO GAMES 2020
The 2020 ISHPES Congress will be held online. More details to the program will be announced in due course. If the number of participants increases, there is a possibility to organize the online congress for more than two days. [PDF]
ISHPES_Online_Congress_2020

This registration form is now closed. Don't enter. Please wait for a while, we are now transfering to a new system for online congress. Even if you have already registered, there is no worry. You are properly refunded systematically in due course.
---
The 2020 ISHPES Congress will take place in the city of Sapporo, the 1972 Winter Olympic Games host city.
Hokkaido University in the heart of Sapporo will be the host university and site of the 2020 ISHPES Congress.
The local organizing committee is chaired by ISHPES Vice President Keiko Ikeda of Hokkaido University.
Contact:
Questions about the program should be directed to program@ishpes.org.
Questions about logistics for the Congress in Sapporo should be directed to congress@ishpes.org.
---
Congress Fees
Early Bird Registration Congress Fees (until May 31, 2020) — note all conversion rates approximate as of September 2019
ISHPES members: 33,000 JPY (approximately 250€)
Early Career Scholars: 6,000 JPY (approximately 55€)
ISHPES non members: 37,000 JPY (approximately 320€)
Regular Registration Congress Fees (from June 1, 2020) — note all conversion rates approximate as of September 2019
ISHPES members: 38,000 JPY (approximately 330€)
Early Career Scholars: 10,000 JPY (approximately 90€)
ISHPES non members: 42,000 JPY (approximately 365€)
All presenters MUST be an ISHPES member. Not a member? Join ISHPES now.
*(co-authors who are not attending the congress do not need to be ISHPES members)
The Congress fee includes:
Admission to all sessions
Congress materials
Welcome reception
All coffee breaks
Lunches
Social program
Early Career Scholars are encouraged to apply for Gigliola Gori Early Career Scholar Award and the Gerd von der Lippe Early Career Scholar Fund. Early Career Scholars presenting at the Congress are eligible for Routledge Early Career Scholar Presentation Award. Click on the Early Career Scholars tab for more information about these programs.
Keynote Speakers — to be announced
Optional Tour (August 24, 2020)
Information about the three optional tours is available here [pdf]. Booking for the optional tours can be made from the ISHPES registration page (password protected; will receive password after registering for the 2020 ISHPES Congress).
---
Conference Venue
Hokkaido University Conference Hall
Kita 8 Nishi 5, Kita-ku, Sapporo 060-0811
Campus map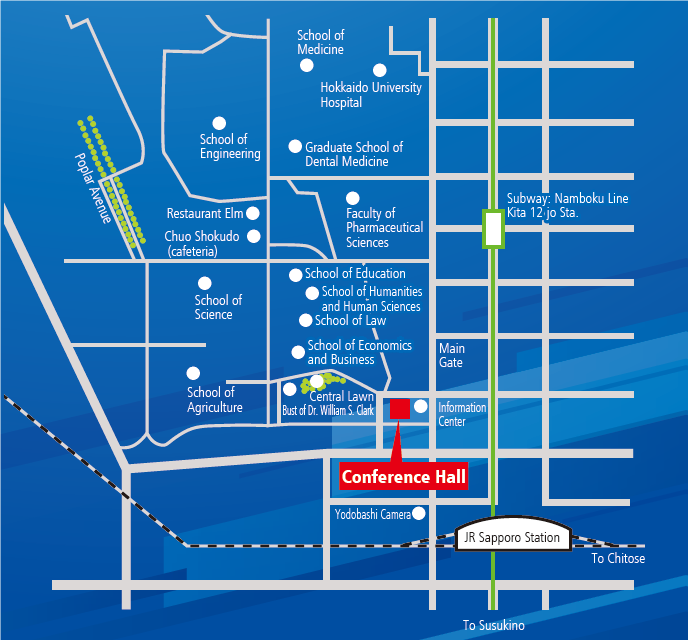 Conference Accommodation and Transportation Information
---
Related Event Calendar | schedule [pdf]
The 2020 Tokyo Olympic Games: July 24 – August 9 (Some events start earlier)
https://tokyo2020.org/en/games/schedule/olympic/
The 2020 Tokyo Paralympic Games: August 25 – September 6
https://tokyo2020.org/en/news/notice/20181019-01.html
The 2020 Yokohama Sport Conference (Co-hosted by ICSSPE): September 8-12
http://yokohama2020.jp/
---
2020 Congress Scientific Committee
Annette R. Hofmann (chair) (Ludwigsburg University of Education, Germany)
Francois Cleophas (Stellenbosch University, South Africa)
Susanna Hedenborg (Malmö University, Sweden)
Keiko Ikeda (organizer) (Hokkaido University, Japan)
Michael Krüger (Münster University, Germany)
Mei-Chun Lin (National Taiwan Normal University, Taiwan)
Rudolf Müllner (University of Vienna, Austria)
Dario Nardini (University of Milano-Bicocca, Italy)
Taro Obayashi, University of Tsukuba, Japan)
Tomaž Pavlin (University of Ljubljana, Slovenia)
Gertrud Pfister (University of Copenhagen, Denmark)
Pierre-Olaf Schut (University Paris-Est Marne-la-Vallée, France)
Patricia Vertinsky (University of British Columbia, Canada)
---
2020 Congress Organizing Committee
Keiko Ikeda (Chair) (Hokkaido University, Japan)
Executive Committee
Koya Ara (National Institute of Technology, Asahikawa College)
Yoshihiko Onuma (Japan Women's University)
Yoshihiro Sakita (Hokkaido University)
Seiki Takimoto (Sapporo University)
Kazuyuki Taketani (Kobe City University of Foreign Studies)
Takashi Yamasaki (Hokkaido University)
Partnership Society (JSSH)
Etsuko Mii (Sugiyama Jogakuen University)
Yoshiaki Matsumoto (Osaka Gakuin University)
Hironori Tanigama (Toyo University)
Gen Fukui (Nippon Sport Science University)
Minoru Matsunami (Tokai University)
---